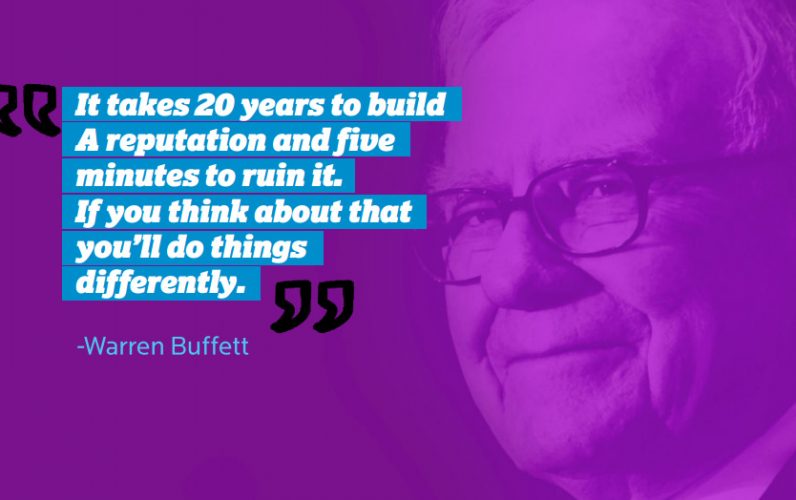 You're going out for dinner, and want to try out somewhere different you haven't been before – how do you decide where to go?
Today, such decisions are usually informed by online searches. In this example, we would take a look at restaurant reviews and choose one with high ratings and a good reputation. It's a simple enough formula for the restaurant trade – but does the same thing apply to your enterprise?
In a word – yes. This is 2017, and we are firmly in the era of the empowered consumer. People today – be they private individuals looking for somewhere special to eat, or business professionals looking to form new strategic partnerships – instinctively head online to conduct research into the products and services they need. They are looking for information that will help them inform their purchase decisions. They will look on social media – Twitter and LinkedIn especially when it comes large B2B enterprises – consult forums and track down websites, all with the direct purpose of finding out more about the business in question. And from this information, they will begin to form an opinion.
And this is how your brand reputation is formed: Your actions + what others are saying about you = your brand reputation.
The opinions of empowered consumers can be very easily swayed during the initial research phase. Whether your website is on the first page of Google, for example, will hold a strong influence over your brand's reputation, as will the design and content of the website itself. Other factors include social media presence, online reviews, mentions in blogs and other journalistic articles, and listings. And don't fool yourself – people are conducting this type of research into your business on a daily basis, and what they find is shaping your reputation even as you read this article.
Reputation Management
Brand managers, of course, don't have direct control over the second part of the equation above, i.e. what other people are saying about the business. However, all businesses do have control over their actions, and this gives them indirect control over any opinions formed.
The process of reputation management can essentially be boiled down into a concentration of four things:
Monitoring
Influencing
Maintenance
Recovery
Firstly, monitoring what others are saying about your brand is important, for it reveals what actions should be taken next. The next stage is to appropriate strategies to (positively) influence what others are saying about your brand. Third, once a good reputation is achieved, the goal of the brand manager is to maintain the positive status. And finally, if your brand's reputation has taken a hit, perhaps through a number of negative reviews or for some other reason, then steps must be taken to recover the loss.
Here we've put together five simple steps that can be taken to improve your brand's reputation at any stage of the process.
5 Easy Steps to Improve Your Online Brand Reputation
1.     Encourage Reviews
In the age of the empowered consumer, online reviews are incredibly important, for they provide the social proof of your company's reputation. According to reputation.com, 92% of internet users read online reviews, and 89% trust them. Taking steps to encourage reviews will help you grow your reputation. This can be done in a number of ways, from incentivising customers with special offers, to leaving your own reviews on your suppliers' review pages, to exchanging reviews with business partners.
2.     Get Social
Another study by reputation.com reveals that 78% of people believe it's important to look up a business's online profile before deciding to do business with them. Today, many people begin this research on social media, and for B2B brands, this tends to mean LinkedIn and Twitter. Having an active presence on these networks, with company profiles completed in full, will help your business get discovered and provide proof that you are engaging with other players and influencers in your industry. This will ensure a more positive impression of your business is formed, and thusly improve your reputation.
3.     Monitor Brand Mentions
This comes back to the first phase of the brand management process. You need to be keeping an eye on what others are saying about your brand online, so you may jump into the conversation if necessary to steer it in your favour. Google Alerts is a great tool for keeping track of what's being said about your brand around the web, as are tools such as Mention.
4.     Prioritise the Fixing of Recurring Issues
Every business will encounter a few bumps along the track. The important thing, however, is that you iron them out as soon as you identify them. In the post-Amazon arena, reviews are part and parcel of doing business online – and that includes your reputation management. If there's a recurring problem with your website, get the IT department to fix it. If you're receiving complaints about customer service quality, invest in training. Your reviewers will not be forgiving if you let these problems persist, and your reputation will take a negative hit accordingly.
5.     Create and Deploy Quality Content
Content marketing is now used by 88% of B2B organisations – and for good reason. The creation and strategic deployment of quality content is a great reputation-builder. Through a strategy that includes blogs, eBooks, white papers, research reports, infographics and video, you can display your expertise and very quickly earn the reputation of being a thought leader within your industry. In turn, thought leadership positions your brand as a trusted authority, which leads to centrality and ultimately more business. Great content, however, is not just about your company, but rather the emphasis should be put on what matters to your customers and business partners. Investing in research and professional writers, therefore, is a strong play in ensuring you solidify your brand's reputation.
Need help improving your online brand reputation? Please browse our site – www.cope-salesandmarketing.com – to view our full list of services, and use our Contact Page to reach out. Looking forward to hearing from you.