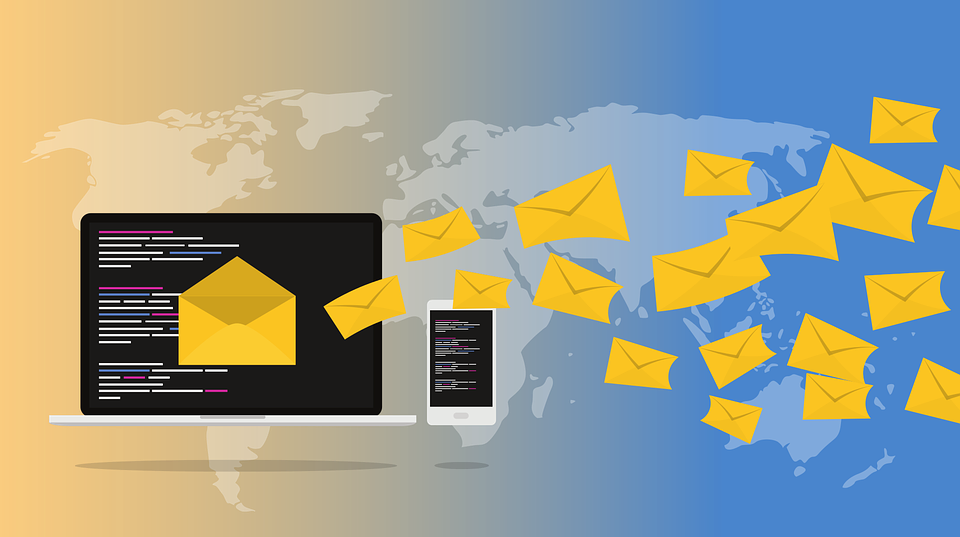 A contact strategy should be at the heart of your marketing planning process. Why? Because it is your contacts themselves that are at the heart of every piece of your larger marketing and sales strategy.
No matter if you have a short spreadsheet containing just five contacts, or a huge database of 5,000 or more, you need to be thinking about how you manage and communicate with your contacts in order to marry your business goals with your sales and marketing tactics.
What Is a Contact?
Before we start drilling down into the ins and outs of a robust contact strategy, let's first take a look at what a contact is.
A contact is any named and, importantly, contactable (usually through email, phone, social media, or all three) person your company markets or sells to, or engages with on social media.
Contact information is usually recorded on a spreadsheet at the very least, or, more appropriately, within a CRM (customer relationship management) software system. Companies have various strategies for capturing contact information – ranging from content-based lead generation campaigns to simply adding names to the CRM database whenever a sale is made – but, no matter how it's done, once you have a contactable list of prospects and customers, the next step is to create a contact strategy to manage your relationships.
Please note: The EU's new General Data Protection Regulation – better known as GDPR – is now in force, which gives greater data protection rights to individuals across Europe, and also introduces new rules regarding capturing contact information and contact consent. Please read our previous post 'The Dos and Don'ts of Data Security for GDPR Compliance' for more information.  
What Is a Contact Strategy?
In the simplest of terms, a contact strategy is a strategy for how you contact and communicate with your customers and prospects.
However, it is much more than that in practice, and indeed has even greater value. A robust contact strategy will allow you to create a foundation which you will then be able to build your greater marketing, sales, and customer delight strategies upon.
When you build a contact strategy, you will start to understand where your contacts are coming from, how they interact with your business, and, most importantly of all, the best way to connect with them.
The aim of a contact strategy is to optimise the customer experience for different customer segments throughout the whole customer journey. When managed correctly, a good contact strategy will support many of your overarching business objectives, including conversions (from prospect to customer), cross- and up-sell targets, lead nurturing, repeat purchases, and customer advocacy.
Ultimately, a contact strategy will connect the vision you have for the relationships you want to nurture with your customers to the communication tools you have at your disposal. It defines when, why, and what you are communicating to your customers and prospects, and provides the basis to test, analyse and optimise your sales and marketing communications.
Optimising the Customer Journey: Why You Need a Contact Strategy
Today, the buyer's journey is becoming increasingly complex. Prospects may become aware of your business through a variety of different means – some within your control, some without. Advertisements, blog posts, websites, social media, conversations with family, friends, business partners and colleagues – any of these things (and more besides) can trigger an impulse to buy.
However, rarely does a 21stcentury customer simply head to a store – either physical or digital – and act on this impulse straight away. Instead, they will go online and research their options, paying particular attention to reviews from impartial third parties, and find out all they can about the brands offering the product, service or solution they're after.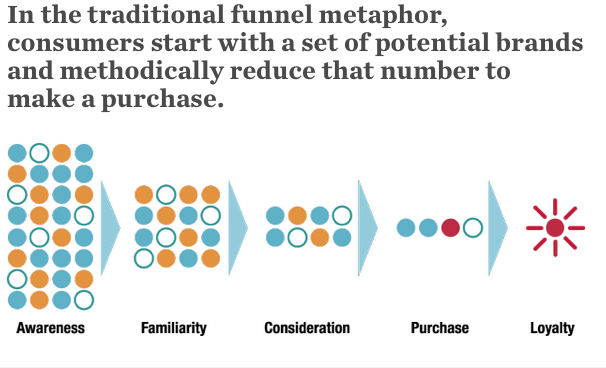 (Image source: mckinsey.com)
Managing relationships with customers at every point of this journey – from first discovery of your brand, through to the consideration stage, the purchase, and then the post-purchase stage – is what your contact strategy will enable you to do.
Your contact strategy will ensure that you concentrate on the specific needs and pains of specific customers, and that your communications with them are personally relevant at specific points in the customer journey.
Essentially, this means that you are contacting the right customers at the right time on the right channel with the right message.
Let's break this down…
The Right Customers…
Today, personalisation is more important than ever when it comes to attracting, converting, and retaining customers (see our previous post 'Why Personalisation Is the Future of Content Marketing'). By developing a contact strategy with the help of a CRM software system, you will be able to deliver personalisation in your communications by dividing your contact list into specific customer segments.
Your CRM system will enable you to build categories and sub-categories of target segments within your contact list, where customers can be grouped by demographical information, where they are in the customer journey (i.e. MQLs (marketing qualified leads), SQLs, (sales qualified leads), opportunities, customers, advocates, etc.), buyer personas, or by any other criteria you deem to be of importance.
In this way, you can ensure that you are always contacting the right customers and providing them with the most valuable and personalised communications depending on who they are, where they've come from, and the history of your relationship with them.
At the Right Time…
Prospects right at the start of the customer journey – the awareness stage (i.e. when they are only just becoming aware that they have a problem that you can solve) – have different needs to customers in the post-purchase stage who have already bought from you. This means, for example, that it will be no good if you start sending awareness-stage-prospects special offers via email that only returning customers are supposed to be able to benefit from. Similarly, your most loyal and returning customers won't find much use for any communications about "getting started" with the product or service you're selling.
As such, your contact strategy will ensure that specific messages are communicated at the right time – which is to say at the right stage in the buyer's journey – for the specific customer.
On the Right Channel…
Your CRM system will help you determine what the right channels are for your various contacts. Channel selection will often be determined by the contact details and any named preferences the prospect or customer provided when you first managed to capture their information. However, many CRM systems come with analytics, meaning that you will be able to tell whether it's email or an IM (instant messaging) service, for instance, that has historically garnered the best engagement form the prospect.
With the Right Message
Selecting the right message is all about moving prospects along the path to purchase. In the post-purchase stage, it's about looking after the already-fruitful relationship, and turning the customer into a loyal brand ambassador.
To give you an example – let's say a prospect has signed up for your newsletter, and has thereby given you their contact information. You won't know much about the prospect at this point, and it's too soon to say whether they're looking to buy, or are simply interested in your content.
So, you email them suggesting a couple of blog posts they might like to read. Your CRM system tells you that they clicked on the links in your email, and read the blogs. You can now assume that they are an MQL (marketing qualified lead), so you email again with a free eBook attached – the eBook lists the 10 benefits of the solution you're selling. Again, your CRM system tells you that they downloaded and read the eBook, and so it's looking like the prospect may be interested in buying, and so you promote the prospect to SQL (sales qualified lead) status.
At this point, you email the prospect once more, this time with a case study attached, detailing the successes a similar customer had with your solution. They download and read the case study, and so it's time for the lead to be handed over to the sales team to try and organise a phone call.
The phone call is a success, and the prospect is now marked in your CRM system as a named opportunity. A couple more calls are scheduled, and the sales team informs the marketing team that the prospect needs a couple more case studies put together to cement their purchase decision. The marketing team obliges, the case studies are sent, and, after a couple more phone calls, finally, the sale is made.
Over the post-purchase stage, regular follow-up emails and calls are conducted, garnering the customer's feedback, and ensuring she has all she needs to make the most out of her purchase. Impressed with the ongoing attention and service, the customer recommends your brand to colleagues – she is now a loyal brand ambassador.
Over to You – And Look Out for Our Follow-Up Posts on Developing Contact Strategies
Trying to orchestrate the right messages being sent through the right channels at the right time to the right customers is practically impossible without a contact strategy in place. If you want to convert your contacts into paying customers, you need to understand exactly who they are, where they are (in the buyer's journey), and through which channels they are most likely to engage with you.
And this is the ultimate purpose of a contact strategy – to help you determine the best practices for communicating with individual prospects and customers in a manner that will give themthe very best experience, and be the most profitable for you.
Now we've learnt what a contact strategy is and why you need one, over our next two posts we'll be looking at how you should go about developing a winning contact strategy for sustained business growth, and will be listing some top tips to help you make your contact strategy as strong as it can be.
If you need help developing a contact strategy for your business, get in touch with the experts here at Cope Sales & Marketing – www.cope-salesandmarketing.com – today. We'd love to hear from you, and will be very happy to chat through your requirements.