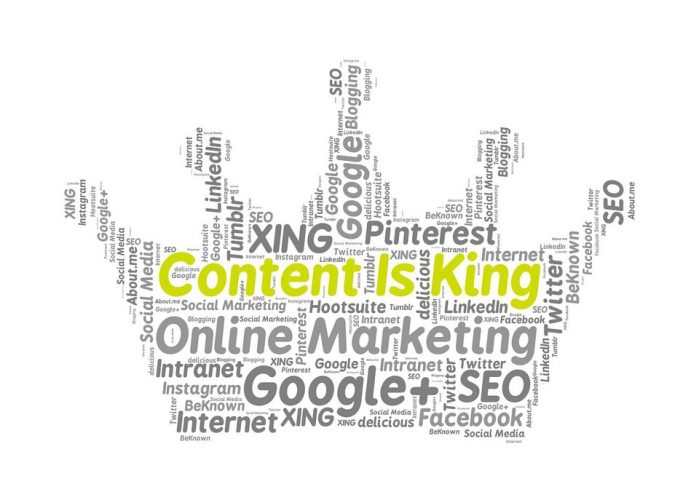 The phrase "Content is king" may have turned into something of a cliché, but clichés become clichés for a reason – they speak a fundamental truth.
In the past, content marketing was a tactic deployed only by the most forward-thinking companies, who understood early on that they could set themselves apart from competitors by providing audiences with insightful, entertaining and relevant content that added value to the overall brand.
It worked, and content marketing very soon became a trend, and today, no organisation can do without it.
Behind every great brand – from Coca-Cola to General Electric– there is a wealth of high-value content, designed specifically to connect with a well-defined audience. Indeed, a massive 86% of UK organisations now use content marketing as part of their ongoing marketing strategies, according to data from the Content Marketing Institute's 'Content Marketing in the UK 2018: Benchmarks, Budgets and Trends' report.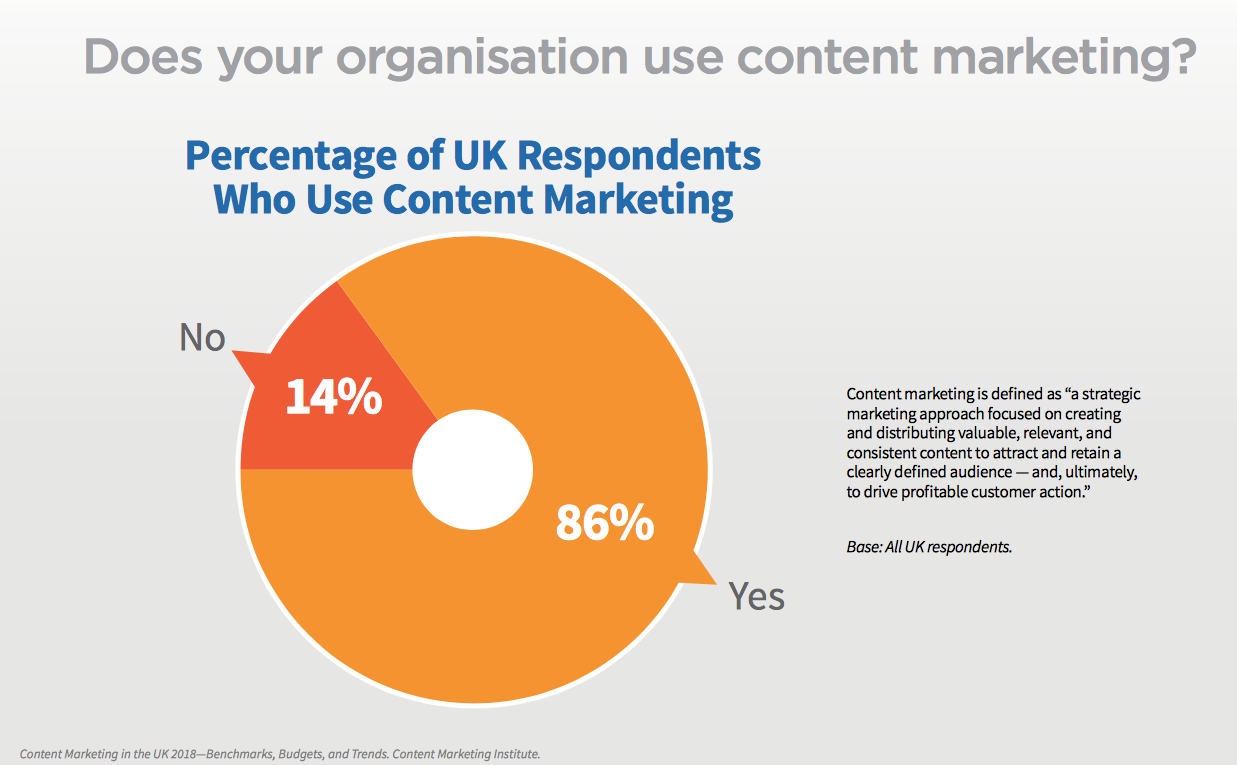 (Image source: contentmarketinginstitute.com)
What Is Content Marketing?
Let's make sure we're all on the same page before we continue.
Here's the Content Marketing Institute's definition of content marketing:
"Content marketing is a strategic marketing approach focused on creating and distributing valuable, relevant, and consistent content to attract and retain a clearly defined audience – and, ultimately, to drive profitable customer action."
Almost the complete opposite of traditional advertising and self-promotion, content marketing is about creating added value for consumers through the provision of free, informative content, designed to attract an audience that genuinely wants to engage with and purchase from the brand.
This is achieved in various ways, and the content itself can take various forms – blogs, social media posts, YouTube videos, infographics, email campaigns, podcasts, etc. The central purpose of content marketing remains the same, however – to provide online prospects with relevant and useful content that helps them solve their problems, and consequently build an affinity with the publishing brand.
The regular publishing of great content realises many other benefits for brands as well – so let's take a look at some of the top reasons why marketers are still shouting "Content is King!" from the rooftops.
Great Content Inspires Trust
No matter if you operate in the B2B or B2C space, publishing a steady stream of well-researched, engaging content is one of the most effective ways to win the confidence of your buyers.
When potential customers read your content, they start to develop an opinion of your brand. If that content is engaging, educational and valuable, they naturally start to think the same thing about your business.
This means that the more value you can provide with your content, the more trust you can build amongst your target audience, who will be more willing to buy from you.
Importantly, the content you provide shouldn't be directly self-promotional. Rather, it should help your prospects solve their pain-points.
Let's take a look at an example.
Mint is a personal finance application. Long before the app launched, the company created the MintLife blog, providing a huge wealth of written and video content that furnished its target audience (young, busy professionals) with free finance tips.
The content was so good – that is, so useful, engaging, and educative – that Mint was able to acquire 20,000 subscribers before it even had a product on the market, providing the company with a huge pool of leads that could subsequently be converted into customers when the app was finally launched.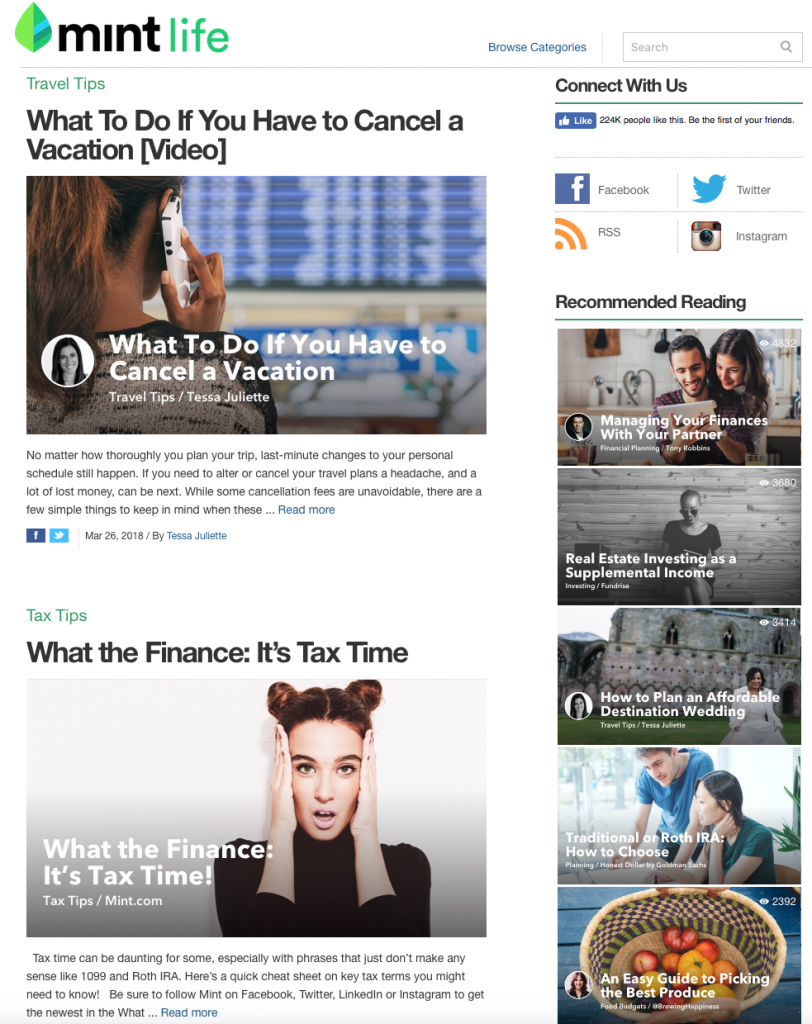 (Image source: blog.mint.com)
In just two years, Mint had grown from zero to 1.5 million users thanks, in no small part, to its exemplary content marketing efforts.
As Jason Putorti, Lead Designer at Mint, puts it: "We focused on building out a unique personal finance blog, very content-rich, that spoke to a young professional crowd that we felt was being neglected. Eventually the blog became #1 in personal finance, and drove traffic to the app. Our app didn't have a high viral coefficient but we had content that was. Our infographics and popular articles became regular hits on Digg, Reddit, etc."
With regular features like "What's in Your Wallet?" and "Trainwreck Tuesday" – in which personal finance disasters were highlighted – the MintLife blog soon became a big hit, and directly drove hundreds of thousands of downloads of the Mint App.
This is the power of great content – and precisely why content is king.
Content Aids Discoverability
This is a big one.
In today's fierce and ongoing battle for page one rankings in search, content is the only way you stand a chance.
Indeed, if you don't a have a content strategy, your website may as well not exist online – and your website is the most valuable marketing tool you have at your disposal.
Content is essential for SEO (search engine optimisation). For starters, your website needs a solid density of keywords – i.e. the words or phrases that users type into search engines when trying to find the answer to a query that they have – in order for it to be discoverable in search, and these keywords you will build into your content.
In addition, in order for your search engine ranking to improve, you also need a strong backlink portfolio. Backlinks act like votes for your website – the more you have, the higher your rank.
Diversity is key when it comes to backlinks – in the sense that it's far better to earn ten backlinks from ten separate sites than it is to have ten backlinks all coming from the same domain. Indeed, a study by BackLinko of 1 million Google search results found that domain diversity has a substantial impact on rankings.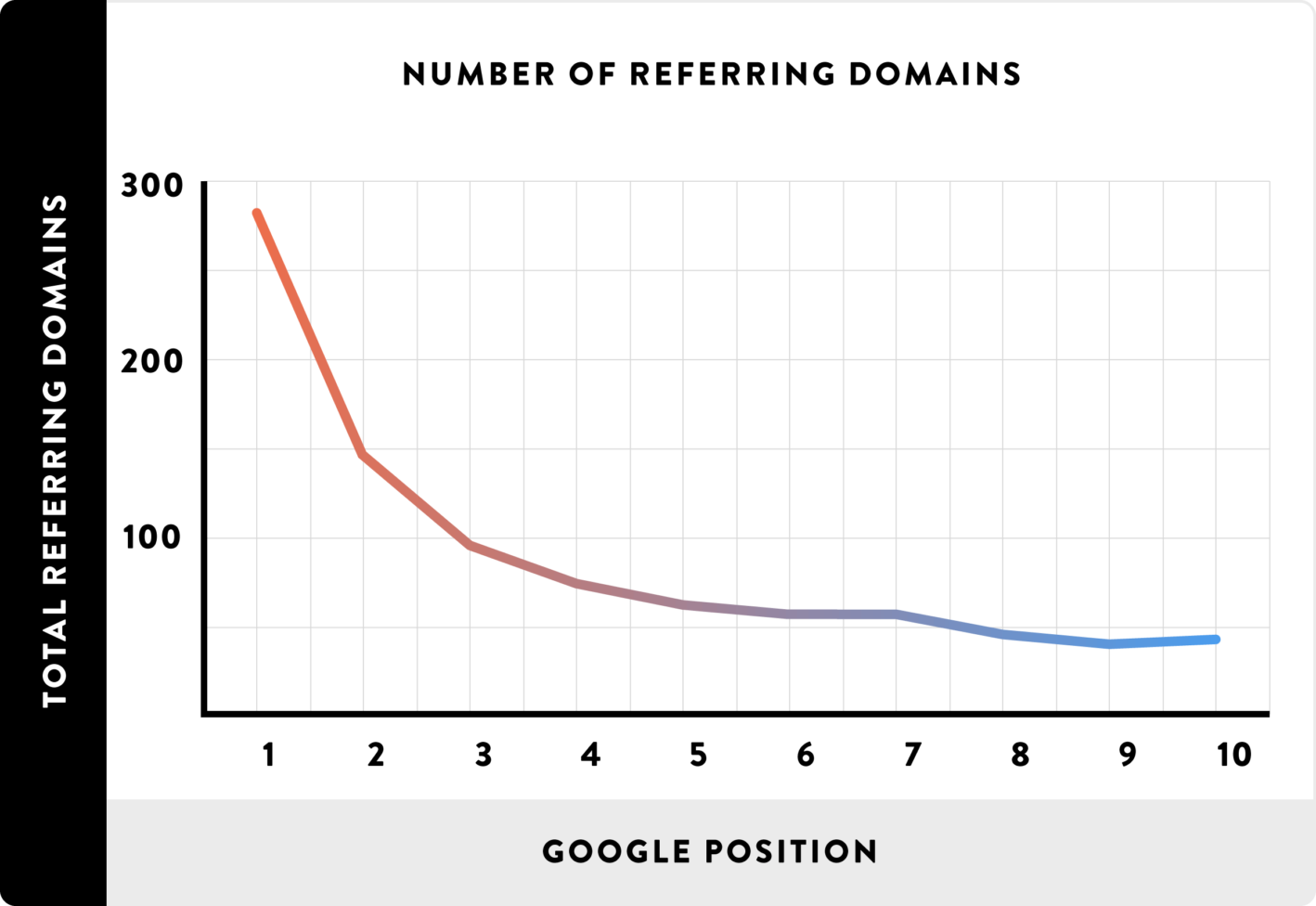 (Image source: backlinko.com)
Leavingblack hat link building schemes (such as buying links or setting up private blog networks (whereby you create and maintain several blogs or websites which exists only to link back to your main site)) aside, pretty much the only legitimate way to build up a strong backlink portfolio from a diverse range of domains is by publishing amazing content that people want to read, share, and of course link back to.
This means that you have to put some real effort into your content. If you think you can build links with 300-word blog posts that barely scratch the surface of a topic, you need to think again.
Publishers, such as bloggers and journalists, need a reason to link to your content – after all, adding a link will essentially send readers awayfrom their own site, and so they will only do so if it is towards something that adds real value to their readers.
So, ensure that your content is well-researched – and even include some original researchif you can – engaging and valuable. You also need to try and get on the radar of key industry influencers – for one link or endorsement from the right person can result in a huge lift in the performance of your own content.
Content Is Crucial for Building Brand Awareness
Brand awareness is exactly what it sounds like – making potential customers aware of your brand's existence, ideally through a process that differentiates your brand from competitors.
In practically all cases, the content you create and promote will be designed to help the reader in some way – and sometimes the way you help them will be by entertaining them.
Take Red Bull's content marketing strategy, for instance. This is a brand that does a fantastic job of entertaining its customer-base by aligning itself with lots of high-octane sports. The most famous example is of course Red Bull Stratos, where Felix Baumgartner parachuted to earth from space.
(Video source: youtube.com)
This is pure entertainment – yet it's perfectly aligned with the Red Bull brand.
For most businesses, however, the content you publish is going to be a little more practical, and not quite so adrenaline-fuelled and death-defying – but it still plays a crucial role in raising brand awareness.
For example, many beauty brands offer a constant stream of how-tos, make-up tutorials and other DIY-related videos and written articles that help their customers get the most out of the cosmetic products they regularly use.
The better this content is, the better the brand is able to demonstrate its expertise and build relationships with its customers and potential customers, who will, in turn, be much more likely to share the articles and videos amongst their peers than they would a plain old advertisement.
A great example of this tactic is L'Oréal Paris's 'Beauty Squad' campaign. Teaming up with eight of the UK's most influential beauty YouTubers and bloggers, the campaign sees amazing content being created for L'Oréal's website and social channels, and capitalises on the influencers' combined reach of more than 5.5 million people.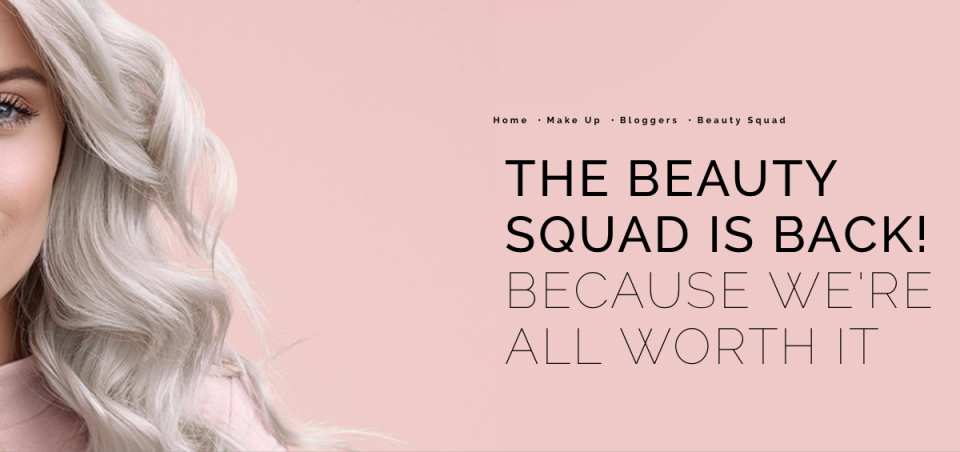 (Image source: loreal-paris.co.uk)
It's this type of highly-shareable content that will ensure that internet users will spread your brand name far and wide. The trick is to add value – don't just sell them your wares, educate them, show them how, and inspire them, and they'll soon be clicking that share button and driving a ton of new traffic to your site.
Over to You
Content is king. It's the king of SEO, and it's king when it comes to helping you build trust and better relationships with your customers.
Great content marketing also allows you to establish thought leadership within your niche, answer customer questions and encourage brand loyalty.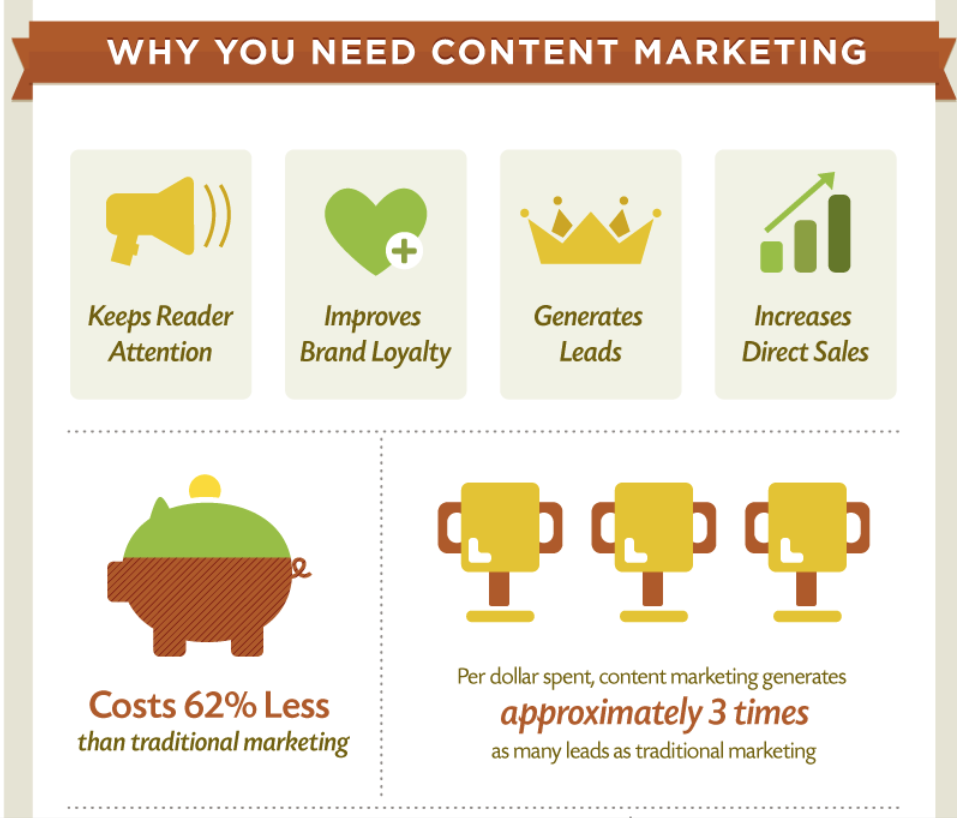 (Image source: demandmetric.com)
And one of the very best things about content marketing is that it's cost-effective. Indeed, according to research from DemandMetric, content marketing costs about 62% less than traditional marketing tactics, yet generates about three times as many leads – and this affordability makes it a necessary tactic for small businesses in particular who want to maximise their budget.
Here at Cope Sales & Marketing we have the experience and solutions to help you create a content marketing strategy worthy of the royals on high. Please browse our website – www.cope-salesandmarketing.com – to view our full list of services, and get in touch today if you have any questions. We'd love to hear from you and will be very happy to chat through your requirements.
SaveSave