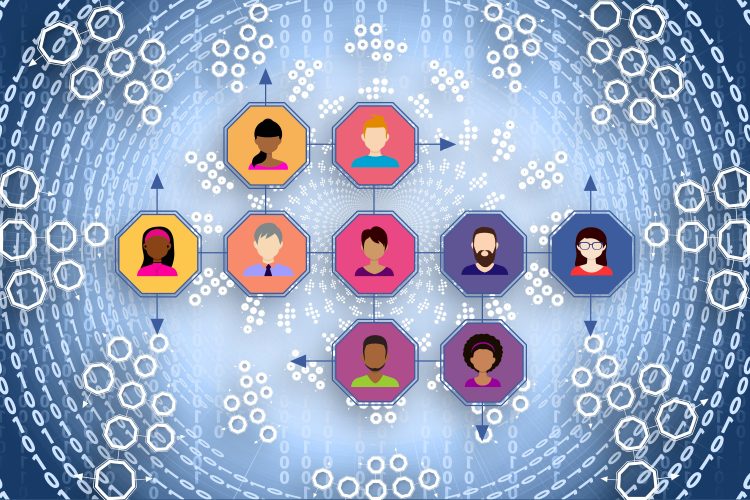 Long gone are the days when traditional forms of advertising – TV and radio commercials, newspaper ads, cold calls, etc. – were enough to satisfy consumers' demands for company and product information. Today, your customers want to be engaged and even entertained as they embark upon the buyer's journey from product discovery through to purchase – a journey that now takes place primarily online.
However, what's engaging and entertaining for one customer may not be so for another – and that means that brands need to find ways and means to connect with their customers on an individual level. In other words, they need to be delivering personalised customer experiences at every turn.
What Is Personalisation?
Personalisation in marketing is nothing particularly new. Think about all those emails from brands and publications that arrive in your inbox every day. We'd wager that very few – if any at all – begin the message with the generic "Dear Sir/Madam", or "To Whom It May Concern".
Of course they don't. Today, we, as consumers, are addressed by first name, and enjoy the feeling (however contrived it may be) that the content we have received has been prepared especially for us.
This is a basic expectation of the email marketing correspondence we receive from brands in 2018. Increasingly, however, consumers are expecting a similarly personalised experience when they visit websites – including ecommerce sites – as well.
Take Amazon, for instance. Product recommendations "Inspired by your shopping trends/browsing history" are commonplace – as are messages that say "Customers who bought this also bought this" followed by a list of personalised recommendations of further products that the retailer's algorithms "think" will interest the user.
It's a similar scenario on popular movie streaming websites like Netflix. When customers log in, they are presented with "Top Picks for [Customer's First Name]" and "Because You Watched The Wolf of Wall Street" lists containing titles the company's algorithms predict will be of personal interest to the named user.
And this is the very reason why personalisation will continue to play an increasingly important role in marketing as time goes by. The technology now exists that enable brands to deliver personalised content at every turn, and, as immensely popular platforms like Amazon and Netflix – not to mention Facebook, Apple Music, Spotify, YouTube, and all the rest – embrace it, consumer expectations are raised, piling the pressure onto all companies that operate in the digital space to do the same.
Personalisation Is Now Widely Used – And it Works
The latest figures from Statista reveal that it's not just the Amazons, Netflixes, and other big players of this world that are embracing personalisation. In fact, it was found – as of March 2018 – that 77% of marketers are using personalisation in email marketing, and more than half (52%) are using personalised communications on their websites.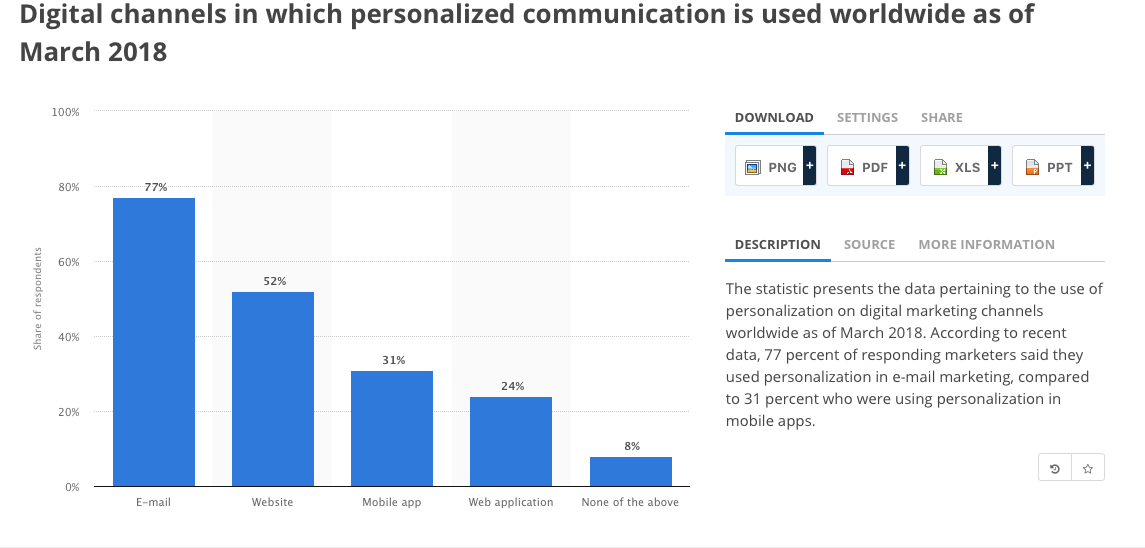 (Image source: statista.com)
The reason is that personalisation works – and it works because consumers expect personalised experiences when engaging with brands.
A separate report from Demand Metric found that the majority (61%) of companies are now using personalisation in their content marketing, of which a massive 80% said that delivering personalised content was more effective than delivering "unpersonalised" content to visitors.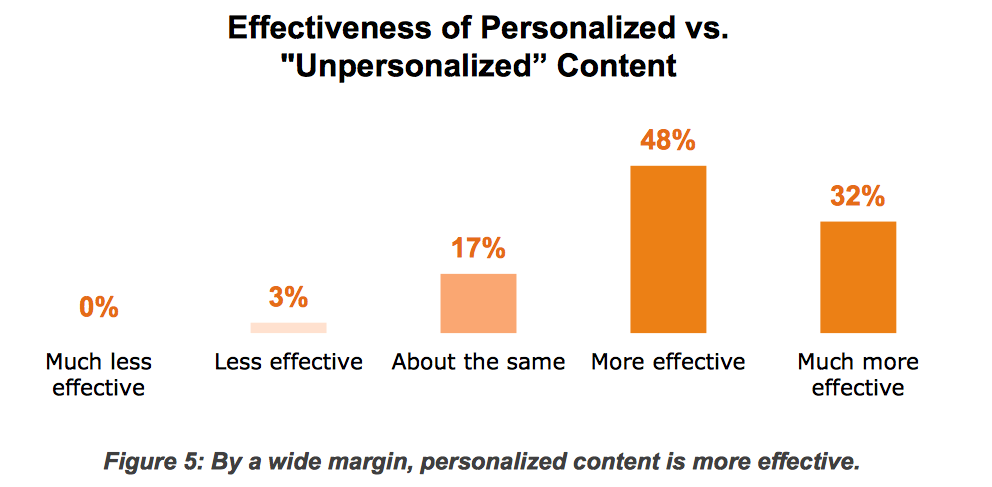 (Image source: demandmetric.com)
Consumer surveys reveal similar findings. A recent study by OneSpot– which surveyed 1,500 consumers to find out how personalisation impacts their perceptions and actions towards brands – found that the higher the personal relevancy of a piece of marketing content, the more favourable the impression the consumer forms of the brand that delivers it.
In fact, 87% of respondents said that personally relevant branded content positively influences how they feel about a brand.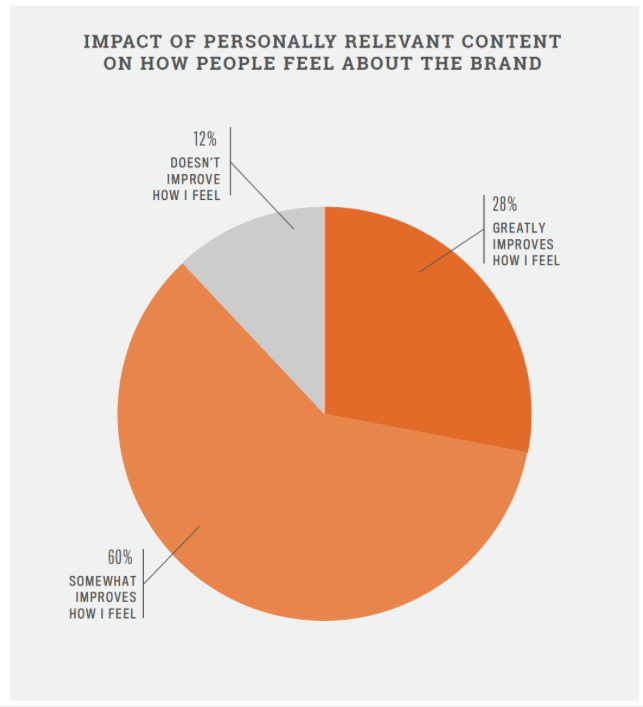 (Image source: onespot.com)
In addition, the study also found that 72% of consumers believe that the brand itself is more relevant to them when it delivers personalised content, with 82% feeling more loyal to the brand, and 84% more trusting.
How to Deliver Content Marketing Personalisation
Every time a consumer visits your website, the aim of the game is of course to either generate a lead or make a sale.
As the above studies have shown, when it comes to the content you present to these visitors, the more personalised it is, the better and more engaging the experience will be, and the more likely it is that a conversion will be made.
But how do you go about serving personalised content to each and every person that visits your site?
Well, the answer lies in technology and data. Today, there is a plethora of software-as-a-service (SaaS) solutions available to companies of all sizes and budgets that allow you to display different versions of your website to different users based on a number of factors.
These factors include their location, ads they've clicked on, social media channels they've come from, keywords they've searched for, browsing history, whether or not they've visited your website before, their transaction history, the device they're using, and so on.
Take a look at the following infographic. It shows how personalisation software can determine that User A is visiting a website using a Mac device in New York, and has arrived via Google. User B, however, is in Paris, on a Windows PC, and has clicked on a link from Facebook to arrive at the site. The personalisation software will therefore automatically serve different versions of the web page to these two users, with the content optimised for each.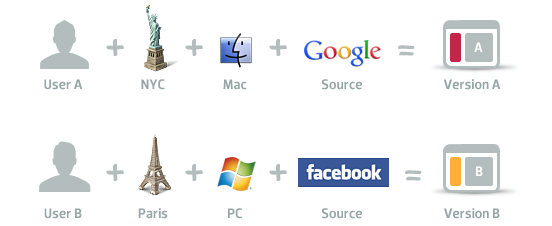 (Image source: conversionxl.com)
To give you a more illustrative example. Inbound Marketing technology provider HubSpot provides its customers with a Content Optimisation System, which essentially allows users to present different versions of their web pages to different visitors based on what is already known about them.
It works by analysing the data available about each visitor and comparing it against a set of variables, including:
Country – display different content based on the visitor's country, as determined by their IP address.
Device type – display different content based on whether the visitor is browsing on mobile, tablet, or desktop.
Referral source – vary content depending on how they've found your website.
Preferred language – personalise content based on the language set within the user's web browser (ideal for US/Can/Aus/UK English variables).
Contact list membership – if the visitor is a member of one your contact lists, they'll be shown a different version than if they are not.
Lead lifecycle stage – show different content to leads, MQLs, SQLs, opportunities and customers.
So, using the contact list feature, the first time someone visits your website, they will be presented with one version that might look something like this…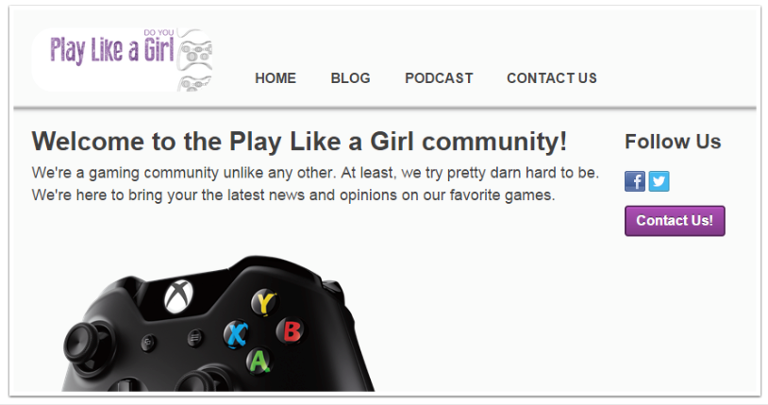 However, once the user has signed up, provided some personal information, and been added to the contact list, the same homepage presents with a more personalised greeting…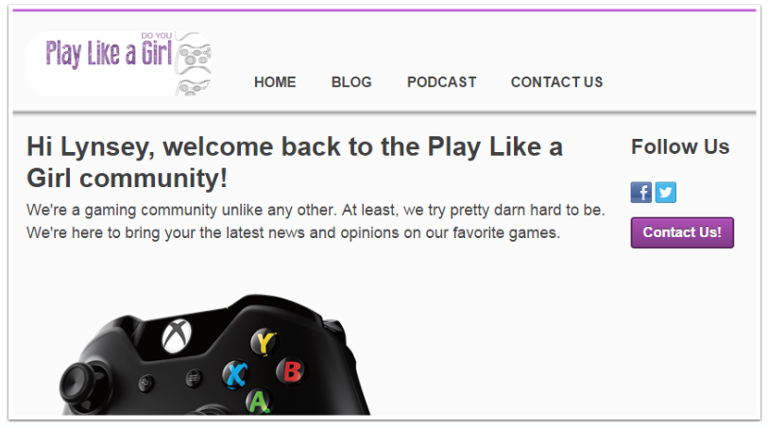 (Image source: knowledge.hubspot.com)
Other tools, such as Personyze, offer similar opportunities to personalize your website. For example, a restaurant website homepage can be transformed from generic to personally relevant, based on what is known about the visitor.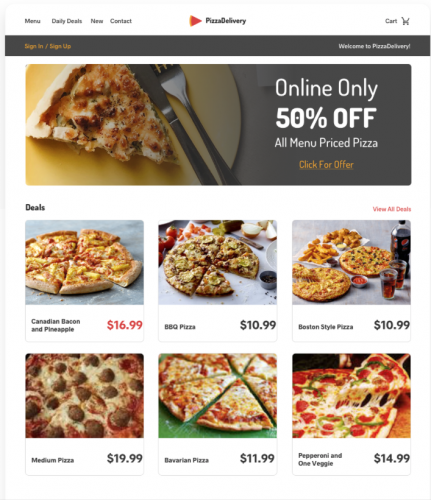 A first-time visitor to this PizzaDelivery site, for instance, sees a basic list of different pizzas, a generic special offer, and content that is not necessarily relevant to the visitor's interests. In short, it is a one-size-fits-all version of the homepage.
However, with Personyze activated on the site, when the same visitor returns, a personalised experience is generated with a targeted banner relevant to sports events that are going on, 'Order It Again' recommendations showing food items the visitor has bought before, a 'Family Special' offer, since the visitor is known to be married with children, and a geo-targeting map revealing PizzaDelivery locations that are nearest to this particular returning customer.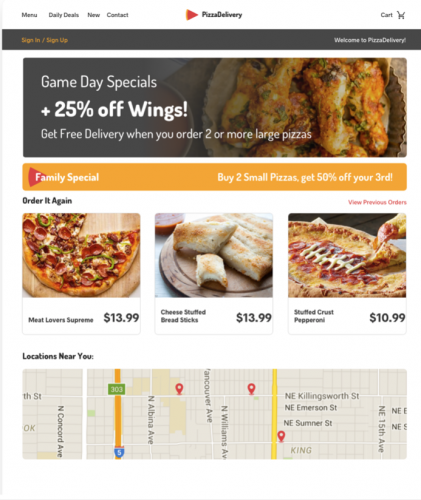 (Image source: personyze.com)
Such personalisation is simply more engaging, more relevant, and indeed more personable.
Over to You
HubSpot and Personyze are just two of literally thousands of personalisation tools available to marketers today. In fact, according to the MarTech 5000 supergraphic, there are now nearly 7,000 marketing technology solutions out there to help organisations like yours personalise your content marketing efforts – click here for the full list.
The reason that personalisation works is because it brings the human element back to online marketing. It's what makes your brand feel relevant to customers and prospects. Whether it's through purchase recommendations, recommended reading, or even just personalised emails, personalisation is here to stay, and the more that the big players like Amazon deliver it, the more your customers will expect you to do so too.
Looking to get to grips with personalisation in your content marketing efforts but don't know where to start? Cope Sales & Marketing can help you choose the right technology, and design and execute a strategy that will help grow your audience and deliver personalised experiences to your website visitors. Please take a browse around our website – www.cope-salesandmarketing.com– and use our Contact Page to get in touch. We'd love to hear from you, and will be very happy to chat through your requirements.