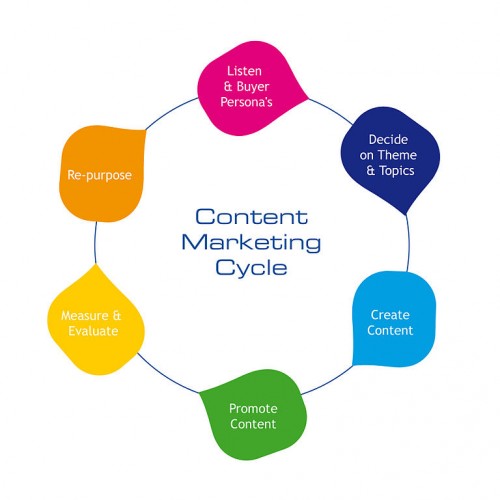 Content marketing is fast becoming one of the most widely used marketing tactics in the B2B realm. Today, 88% of B2B organisations use content marketing – a practice defined by the Content Marketing Institute as "a strategic marketing approach focused on creating and distributing valuable, relevant, and consistent content to attract and retain a clearly defined audience – and, ultimately, to drive profitable customer action."
However, despite high adoption rates, it may (or may not) surprise you to learn that, according to the B2B Content Marketing 2016 report, only 30% of B2B marketers say their organisations are effective at content marketing – down from 38% in last year's report.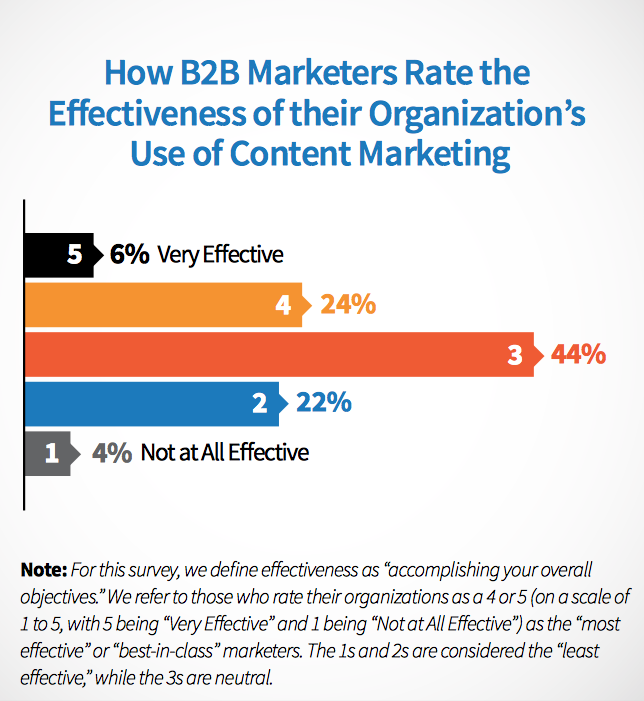 Just 30% – that's an alarming figure. Though when we drill down into further findings in the report, we can see why so few consider their organisations to be effective at content marketing.
For starters, a startling 55% of B2B marketers are unclear on what effective content marketing looks like.
Driving meaningful business results is always going to be a struggle when you're unclear as to what it actually is you're trying to achieve. Indeed, this is exactly where many seem to be going wrong – for only 32% of B2B marketers have a clear, defined and documented content marketing strategy.
The good news is that effectiveness increases both when it is understood what success looks like, and when a content marketing strategy is documented:
53% of the most effective marketers have a documented content marketing strategy
40% of the least effective marketers have no strategy at all
55% of companies that are clear on what success or effectiveness looks like show a higher effectiveness rate

Content marketing works for B2B businesses – but the fact is that a haphazard approach doesn't cut it. What's needed is a strategic framework upon which efforts can be conceptualised, designed and then scaled.
Developing such an effective content marketing strategy is by no means easy, but becoming familiar with some core components is the first step in the right direction. Here we have put together what we consider to be the 6 phases of an effective content marketing strategy.
6 Phases of an Effective B2B Content Marketing Strategy
1.     Set Your Goals
Creating useful and shareable content should be at the core of your marketing campaigns in 2016 and beyond. But, before you start putting pen to paper (or rather fingertips to keyboard), it's important that you first sit down and work out exactly what you're trying to achieve.
Content marketing campaigns can be used to raise brand awareness, increase social media followings, generate leads, nurture leads, grow email subscriber lists, drive downloads of whitepapers or eBooks, for direct sales, and for upselling and cross-selling.
So, ask yourself – what exactly is it that I want my content marketing efforts to realise?
Document these goals, for, by doing so, you will be taking the first steps towards understanding what effective content marketing looks like. If it's email subscribers that you're after, then you will be able to measure your successes quite easily. Similarly with lead generation and sales. In fact, it is only by setting goals, and then experimenting with a variety of content distribution and documenting the results that you will be able to decipher exactly what content tactics are the most effective at driving success for your B2B organisation.
2.     Create Client/Buyer Personas
Before you rush into experimentation, however, the next step is to identify your target audience – and this means creating client personas.
A client persona is simply a semi-fictionalised representation of your ideal client. To create them, prepare a questionnaire which you will then answer on behalf of your personas.
The questions may include:
Male or female?
Marital status?
Annual income?
Location?
Age?
Children?
Education?
Industry?
Career path?
Size of company?
Job role/title?
Seniority within company?
What are the tools/skills required to do your job?
Career aims?
What publications do you read?
Preferred social network(s)?
What's a typical day like for you?
It's common practice to give your personas a name once you have created them. So, for instance – let's say you're in the SaaS (software as a service) business, and are trying to sell your electronic invoice solution to B2B corporations.
Your buyer persona, therefore, might be Maggie. Maggie is the CEO. She's between 40 and 60, a graduate, and earns upwards of £75k a year. Maggie has spending power at her company, and is willing and able to spend big on the right products and services. Her professional goals consist of striving to build a better business – decrease costs whilst increasing efficiency, productivity and revenue.
With Maggie established – and perhaps Jo, Steve and Mike to boot – you will then be able to start figuring out exactly what type of content will appeal to her and her colleagues.
Creating personas doesn't have to be a complicated process – and indeed you can refine the details as you move forward with your strategy, and even add more personas – but it works. A great blog post written last year by Ashley Wilson-Rew entitled '11 Buyer Persona Statistics that Prove Personas Are Awesome' reveal just how well this tactic can work for you. I encourage you to read the whole thing, but here are a couple of key takeaways:
Skytap, a self-service provider of cloud automation solutions, implemented a targeted content marketing strategy and saw the following results:
124% increased sales leads
55% increase in organic search traffic
97% increase in online leads
210% increase in North American site traffic (HubSpot)
A MarketingSherpa case study found that buyer personas added the following value:
a 900% increase in length of site visit
a 171% increase in marketing-generated revenue
a 111% increase in email open rate
a 100% increase in the number of pages visited (Act-On)
3.     Identify Appealing Topics
Now you've identified your target audience, the next stage is to think like them. Content marketing is all about providing answers to questions that your existing or potential clients may have about your product or service.
Today is the day of the empowered consumer – even in the B2B realm. When organisations are looking to buy, they want to be able to head online and find out all the information they need long before they ever talk to a member of a sales team.
So, ask yourself the following questions:
What would Maggie most like to read?
What about Jo, Steve and Mike?
Does my organisation's existing content answer all the questions they might have about our service/products?
Would any of my personas be interested in larger industry news/trends/research reports?
What's the most useful advice we could be giving to people working in our industry?
With these questions answered, you will be able to document the most appealing topics that your content should cover, and have ideas for the content that will answer the most critical questions that your target audience may have.
4.     Create and Promote Your Content
Now is the time to start putting those fingertips to the keyboard and crafting the content that will draw in your target audience.
However, though I emphasise writing, it's important that you create a good blend of content. Blogs are essential, but so are visuals – infographics, videos, visualised quotes (for sharing on social), SlideShares, and you may even consider memes or GIFs.
Whitepapers, research reports, eBooks, webinars and podcasts should also be contributing to your content marketing strategy. The purpose of variety is to ensure and promote engagement. Keeping your target audience interested – especially your existing customers – is key, and offering an assortment of formats will help keep engagement levels high.
However, no engagement will be achieved at all without adequate promotion. This will take place on social media (see below), through email promotions, search engines, influencer marketing, employee promotion, targeting, and paid advertising.
Again, by documenting your results across all marketing channels, you will be able to identify which content is the most effective when combined with which promotional tactic – and from here you can adjust future efforts.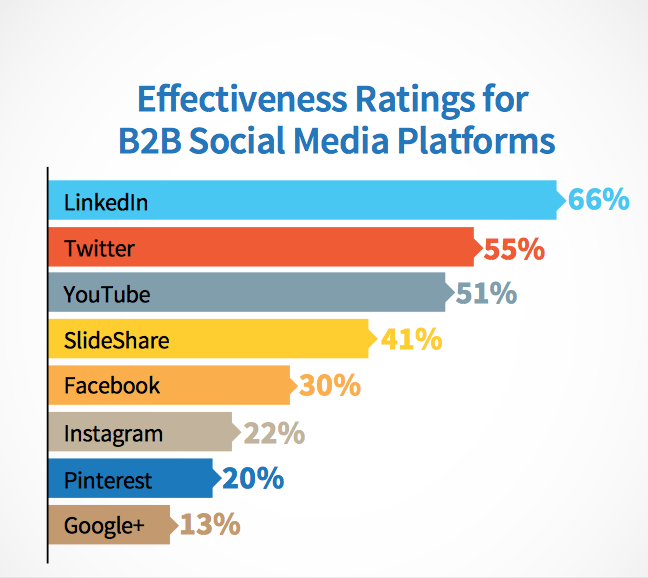 5.     Analyse Results and Optimise Your Tactics
A content marketing strategy is ongoing. It will mature over time, and become more effective the more you learn.
Analyse your success rates. Have you achieved the goals you set out at the start? If so, what are your new goals? If not, why not?
Indeed, you may find some anomalies. For instance, your whitepaper may not have generated the leads you were expecting it to – however, you were surprised by its success on Twitter. In such a circumstance, you cannot chalk up a success – for your goal was not achieved. Instead, you need to re-evaluate your goals and your tactics. Were the wrong goals set? Did you focus too heavily on Twitter when you should have been concentrating on LinkedIn? Did your efforts to target Maggie fail, and instead it was Mike who found your content?
Mistakes like this are fine – in fact they're a good thing, for you have now learned valuable lessons in what works and what doesn't. Provided you now revisit your strategy and optimise future tactics, you will always be gaining a clearer and clearer picture of what effective content marketing looks like. And with this, you will be able to create a strategy to match it.
6.     Repurpose Content for Maximum ROI
Content creation requires a considerable investment of time. Research by Orbit Media Studios, which involved conducting an in-depth survey of more than 1,000 active bloggers, reveals that blog posts take anywhere between one hour and six hours to write, optimise and publish. The average amount of time the creation and publication of a blog post consumes from start to finish is between one and two hours.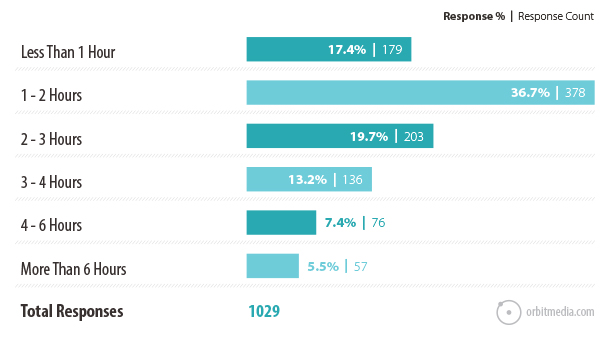 Of course, it doesn't stop the moment you hit "Publish". Next comes the promotion of the content, targeting, engagement with interactors, etc., etc., etc. If you're blogging, say, two or three times a week – or even more – the hours being ploughed in begin to tot up very quickly.
With so much time and indeed energy invested into content creation and marketing, we need to find ways and means to sweat each content asset we have, and ensure that we're squeezing every last drop of value out of it.
In this regard, the practice of repurposing content is very much beneficial. If you've invested, say, three or more hours into a blog post, you want to make sure that you're achieving maximum reach. And so, repurposing that content to be published on the likes of LinkedIn and Medium can help you achieve this.
These platforms offer gateways into brand new, decentralised audiences for your output. You do have to be careful, however, about duplicate content issues. You don't have to worry about receiving a formal Google Penalty for such practices – however, the search engine will recognise, if you republish a blog post on a separate platform absolutely verbatim, that both articles are the same, and will therefore only return one in SERPs (search engine results pages).
What you have to consider, therefore, is which version of the post you want users to find when conducting searches, i.e. which version you want to rank for – the blog post on your website, or the duplicate version on a third-party platform. In most cases, you will want search traffic to be directed towards your website, and so you simply insert the canonical tag – rel="canonical" – into the URL of your blog post. This tells Google that your blog post is the definitive (i.e. canonical) version that you want to see returned in results pages.
If you want to completely avoid the duplicate content issue, then you can repurpose your blog posts for LinkedIn and Medium just by rewriting them. You could approach this perhaps by tackling the topic from an opposite perspective (e.g. if you've written about "The Best Features of Something" on your blog, write "The Worst Features of it" for Medium), or simply reword the article. This will of course require extra effort and time, and you must decide whether or not this will be time well invested.
Other options include writing short or teaser versions of your blogs on LinkedIn (not on Medium, which is a publishing platform that's focussed on quality, and neither the Medium algorithm nor user-base will reward you for teaser posts that are created only for the links back to your website), and include a link back to your full-length blog post which readers can click if they want to "find out more".
Other ideas for repurposing content include crafting infographics using the research you've put in to your blogs, whitepapers or research reports. And you can of course repurpose chapters from any eBooks that you might be writing into standalone blog posts. Video content is not to be ignored either, and you could consider turning some of your blogs into vlogs to extend the reach of your content.
B2B content marketing doesn't have to be complicated, but without a clear, documented strategy, it can be almost impossible to achieve success – especially if you're unclear on exactly what successes you're trying to achieve.
Here at Cope Sales and Marketing we have the experience and the solutions to help you create a B2B content marketing strategy that will help you hit all of your targets. Please take a look at our website – www.cope-salesandmarketing.com – to see which of our services will be most beneficial to you, and you can head over to our Contact Page to reach out.